It is currently Sat Oct 24, 2020 1:38 pm
Please note that you will not be allowed to join the drive if you come to the meeting point without a functioning pre-programmed radio and a flag with flag pole attached to your car. This is for your safety and for the safety of others on the drive. We appreciate your understanding and cooperation.
General - Club Founder

Posts: 2947
Medals: 1
Real Name: Ahmad Pervez
Vehicle Make & Model: Toyota FJ Cruiser 2008
Disclaimer: Agreed and Signed.
Nickname: Ahmad
Number of drives: 735
Location: Dubai
Blood Group: AB+
Contact:
drmounibrifai

wrote:

↑

Thu Oct 15, 2020 4:42 pm

I am trying to join this trip but it says I need to confirm. My. Membership first by paying the fees, as I recall reading in the rules I have 3 free trips and I just had 1 drive with the club so far. Can you please add me to the drive?
Dr. Rifai,
You already have 2 stars,
The 3 free trips are essentially to introduce this adventure sport to new members and is not applicable for advance members.
I hope that clarifies.
"There are only three sports: bullfighting, motor racing, and mountaineering; all the rest are merely games" - Ernest Hemingway

Ahmad Pervez
050 6534953
---
---
Posts: 1
Real Name: Mohamed Lamine
Vehicle Make & Model: Infiniti QX80 2015 Limited
Disclaimer: Agreed and Signed.
Nickname: Logane King
Blood Group: A+
Super adventure on the purple convoy..... It was amazing and lovely experience... Super thanks to all the marshals for their patience and support... True team work and very professional qualified team... Thanks for the opportunity given inn.... Definitely coming back again!!!!! See you next week..... Logane King (Mohd Lamine)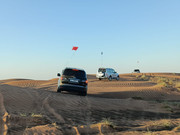 ---