It is currently Fri Jun 25, 2021 7:54 am
Please note that you will not be allowed to join the drive if you come to the meeting point without a functioning pre-programmed radio and a flag with flag pole attached to your car. This is for your safety and for the safety of others on the drive. We appreciate your understanding and cooperation.
Colonel

Posts: 245
Medals: 2
Real Name: Mohammad Tariq Afzal
Vehicle Make & Model: JK Pentastar 2013
Disclaimer: Agreed and Signed.
Nickname: trq
Blood Group: O+
MULTIPLE CONVOYS GRADED ACCORDING TO DRIVER'S SKILL LEVEL, FROM FIRST TIMERS WHO HAVE NEVER DRIVEN IN THE SAND TO LEARNERS TO SKILFULL DRIVERS, SO THAT EVERY ONE HAS FUN AND IS CHALLENGED WHILE KEEPING SAFE.
Meeting time: 1430
Drive starts: 1500
Drive terrain: Large red dunes >> Pink Rock >> 2nd December >> Tawi Trails >> (Faya dunes >> Fossil Rock, if time permits)
Drive will end at sundown
Please be punctual so we can maximise our time on the sand!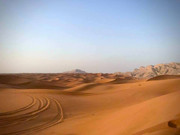 IMPORTANT: If you are bringing children, please ensure they are secured in an age-appropriate car seat.

COVID-19 PREVENTION MEASURES
A. At the meeting point, please park the vehicles at least 5 meters apart and observe standard social distancing practices.
B. Face mask and gloves to be worn at all times.
C. No shaking hands, hugging or any other physical contact.
C. Max 3 persons per vehicle, or 5 if from the same family staying in the same house.
D. Drive briefing can be viewed on this page and communications on the day will be carried out by radio, so please ensure your radio carries the correct channel announced on your convoy's WhatsApp group so you can line up correctly once at the meeting point, deflate your tires are deflated and mount your flag.
E. Drivers AND passengers should remain in their vehicles, after deflating their tires and NOT meet or socialize with other participants.
F. There is to be no sharing of any food or drinks.
G. No sharing of any equipment, tow ropes, shackles, radios or any other accessory.
H. In the event of a recovery, please radio your position in the convoy and vehicle - a marshal will advise you on how to self-recover or will assist.
Checklist:
a) Fully functional 4x4 vehicle with full tank of fuel.
b) Air compressor in working condition.
c) Recovery rope / strap.
d) Compatible radio pre-programmed to DO frequencies.
e) Refreshments for you and your passengers (if you have them).
f) Offroad flag attached to vehicle.
Etiquette:
1) Registering and not coming along may stop others from joining and is easily avoidable - so please be courteous and withdraw if you can't make it.
2) Be punctual.
3) Avoid bringing along unregistered participants without prior permission.
Thank you for taking the time to read this and prepare properly - see you on the sand!
Last edited by
trq
on Mon Aug 10, 2020 9:00 am, edited 2 times in total.
Tariq
---
---
---
Webmaster & Co-Founder

Posts: 1864
Real Name: Hamza Ahmad
Vehicle Make & Model: Toyota FJ Cruiser TRD Edition 2008 and Nissan Armada 2006
Disclaimer: Agreed and Signed.
Number of drives: 800
Location: Dubai, United Arab Emirates
Blood Group: AB+
Contact:
---
---
Colonel

Posts: 245
Medals: 2
Real Name: Mohammad Tariq Afzal
Vehicle Make & Model: JK Pentastar 2013
Disclaimer: Agreed and Signed.
Nickname: trq
Blood Group: O+
---
Brigadier

Posts: 93
Medals: 1
Real Name: Jo
Vehicle Make & Model: Toyota Fortuner
Disclaimer: Agreed and signed
Nickname: Pav
Number of drives: 63
Blood Group: O
Please can I request members who register for a drive to give at least 24 hours' notice if they will not be joining.

Whilst we completely understand that sometimes there are extenuating circumstances on the day when a member may not be able to join, it is not fair to others to take up a spot if you are not committed to the drive.

Thank you for understanding and see you all at 14:30 on Friday!
My happiness begins when the tarmac ends
---
Posts: 2
Real Name: Andy Mogford
Vehicle Make & Model: Jeep Wrangler Sport
Disclaimer: Agreed and Signed.
Nickname: Moggy
Number of drives: 0
Blood Group: ?
---
Posts: 3
Real Name: Alex Reeves
Vehicle Make & Model: Jeep Wrangler Rubicon
Disclaimer: Agreed and Signed.
Nickname: Ginger
Blood Group: O+
Im in this week - looking forward to it
---
---